UnkeiーThe kamakura Shogunate and the Miura Clan
Exhibition

Special Exhibition:The 800th anniversary of the death of Unkei


UnkeiーThe kamakura Shogunate and the Miura Clan

2022 Wed July 6 〜 2022 Sun September 4

Closed: Mon August 1
---
Unkei was a sculptor of Buddhist statues active in the late twelfth and early thirteenth centuries.
He is well known for the Buddhist sculptures he created at Kōfukuji and Tōdaiji temples in Nara. But Unkei also made significant contributions to the development of Buddhist sculpture in eastern Japan (the Kanto region) during the Kamakura period (1185-1392).
Unkei built close ties to the new regime, the Kamakura shogunate, and, having won the trust of the Hōjō clan (who became defacto rulers of the shogunate), received opportunities to work in the Kanto region.He took part in creating several sculptures now at Jōrakuji Temple (Ashina, Yokosuka) in 1189 as well as Buddhist sculptures for the Miura clan, who ruled the Miura Peninsula, which includes Yokosuka.
This exhibition is focused on Buddhist images extant in Yokosuka that are regarded as by Unkei or his studio, accompanied by other Buddhist images, documents, and related materials from around the same period. The 50 exhibits will shed new light on the history and culture of the Miura Peninsula.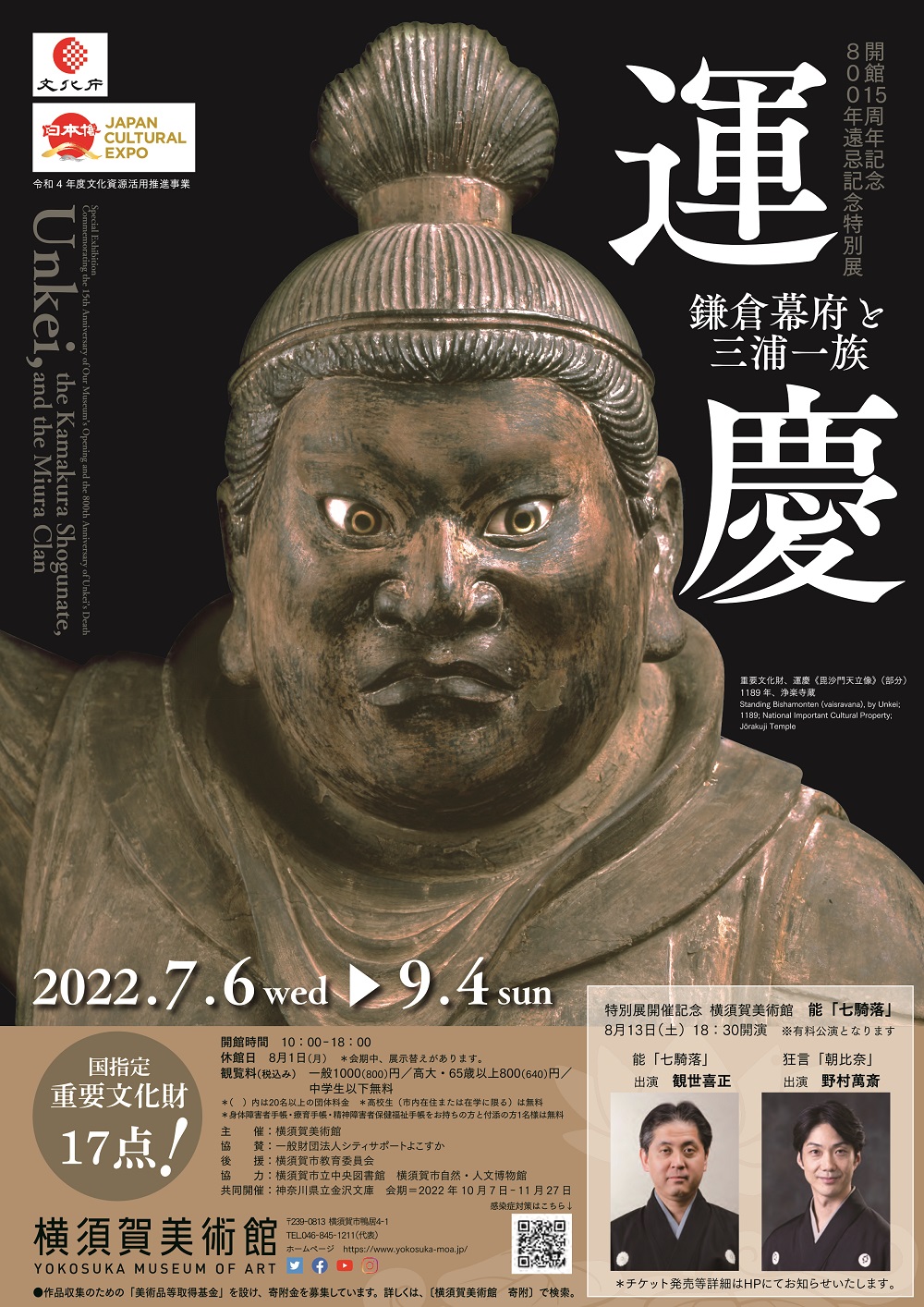 Unkei Exhibition List of Works 2.6MB

Unkei Exhibition Highlights Commentary

480KB
Date
2022 Wed July 6 – Sun September 4
Hours
10:00-18:00

Closed
Mon August 1
Admission (tax included)
Day ticket (Group of 20 persons or more) Adults: ¥1,000 (¥800)
University Students/High School students/Senior over 65: ¥800(¥640)
Junior high school students and younger: Free
*Including the admission fee for Collection Gallery
*Entry is free for high school students residing in Yokosuka or students attending high school in Yokosuka.
*Free admission for persons with a disability pass and one accompanying caretaker.

Venue
1F Special Exhibition Hall
Organizer
YOKOSUKA MUSEUM OF ART
Cooperation from
City Support Yokosuka
Traveling to
Kanazawa Bunko Museum, October 7 – November 27, 2022